Innovations in mobile app development are powering healthcare services with enhanced functions like real-time data access, telehealth, and more. It has led to widespread adoption of healthcare app development in the health industry. So, here is a conclusive guide with a tech stack, business model, revenue streams, and more to help you stay ahead in the market.
Healthcare apps can:
1. Easy & paperless health data gathering
2. Cost-effective for hospitals and patients
3. Transparent communication between physicians and patients
4. Increase customer loyalty and engagement
5. Provide time-saving features for medical staff
6. Reduce medical mistakes
7. Focus on timely care despite the location
The Healthcare industry has seen many innovations, from the integration of Artificial Intelligence (AI) to the usage of robots in surgeries. Such innovations drive the current market trends. Nevertheless, they also create new opportunities for healthcare businesses.
let's take a look at a few healthcare startups that have impressed users with their innovative app ideas.
1. Healthe People: Using this healthcare app, users can store and monitor all their healthcare apps and devices' data. Healthe People also allows users to find medical caregivers for their friends.
2. Soniphi: Soniphi uses vocal information to provide you with a complete well-being analysis report on your personal health.
3. Teladoc: This healthcare app allows users to connect with doctors or surgeons at their convenience. Users can book appointments and even update their medical history.
4. K Health: It's an AI-powered healthcare app for iOS that helps to chat with a doctor. The app also offers a symptom checker for free.
These were a few healthcare app use cases that are making big in the healthcare sector with their user-friendly and innovative features. These apps are helping to connect patients with doctors and speed up treatment procedures.
Fix out your Healthcare app requirements
---
Before deciding which medical app developer to choose, it is crucial to be very cautious about the type of your application. It is understandable to come across a multitude of business models, and all the business models cater to different user sets. Although we can make two subcategories under which the whole system of healthcare apps are flexed:
Applications for Health Service Providers
Applications for end-users
Now let's see what each segment assembles.
1. Applications for Health Service Providers
This type of application is authorized by every medical service that is available under the sun, for example, doctors, care-takers(part-time/ full-time), and other medical professionals. For your information, we are going to mention the most common health app ideas down below.
Online Health Record Software
Diagnosis Software
Hospital Management Software
Medical Research Software
Medical Equipment Management Software
2. Applications for End-Users
This is the type of software where most of the businesses with healthcare app ideas regenerate. Here is the kind of applications for end-users:
Health Check-up Apps
Wellness Apps
Medical Records
Appointment Booking
Medicine Delivery
Features in iOS App for Healthcare
When developing an app for healthcare, it's important to decide which features to include in your app. You must make sure to include such features that make the whole experience immersive and user-friendly for the users. Below are a few common features that you must include in your healthcare mobile app.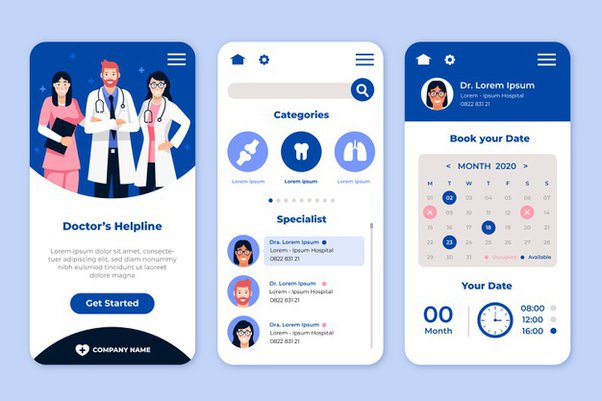 1. Sign up/log in: This feature allows users to sign up or log in easily via email, phone number, or social media accounts like LinkedIn, Facebook, and Twitter. The sign-up process should not be too complicated as it will frustrate your users, and they might end up leaving your app. So think carefully about what information you need from them and don't add unnecessary fields.
2. Health tracking: It is one of the most crucial features to include in a healthcare app for iOS. This functionality enables the monitoring of a patient's health conditions such as blood pressure, sugar levels, heart rate, calories intake, etc.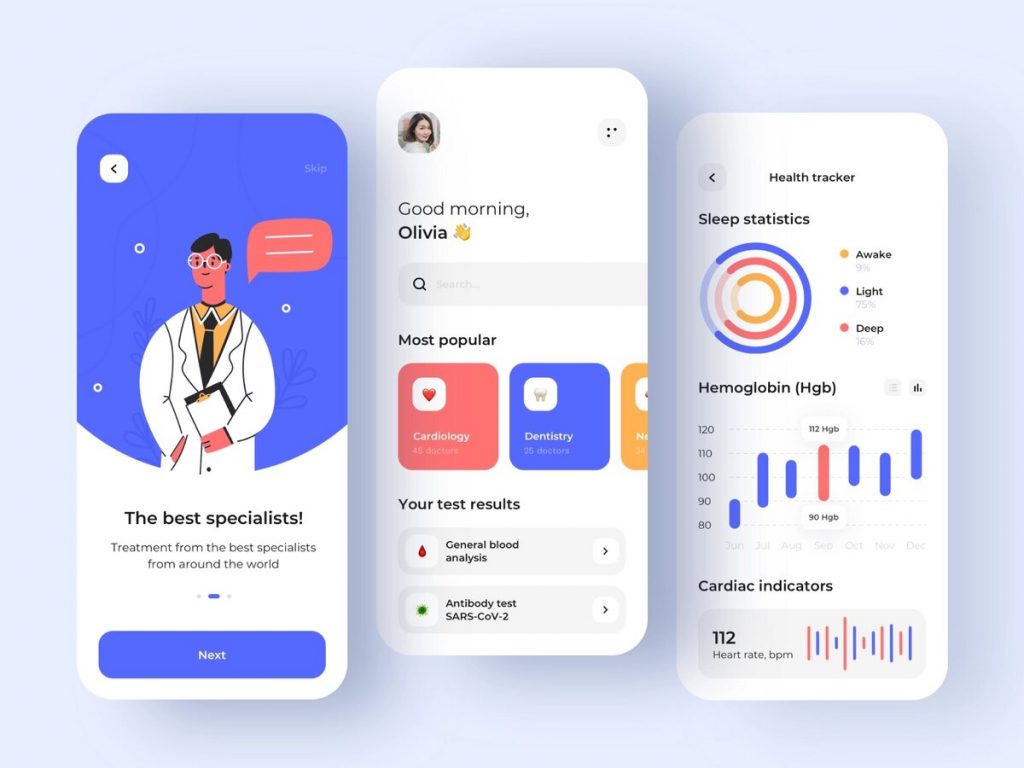 3. Appointment Booking: It is one of the most basic iOS healthcare app features to find and book appointments with doctors. This functionality will help patients to easily check the doctor's visit timing, book an appointment, and even set a reminder. It will make the booking procedure stress-free for patients. For doctors, this feature will help them to quickly see their upcoming appointments and change their availability as necessary.
4. Doctor and patient profiles: Healthcare apps must include Doctor and user profiles. The doctor's profile can have details like their area of specialization, location of the clinic, visitation charges, etc. This will allow patients to find appropriate doctors in their area.
The user profile, on the other hand, can include the user's name, age, gender, and basic health data like weight, height, blood group, etc. This will help doctors to get a quick overview of patients, their conditions, or medications.
5. Siri integration: If you've never integrated Siri into the application, now is the time to evaluate it. Siri's functionality now offers a better voice experience, additional customization, and more. For example, your healthcare app can allow people to search for hospitals using voice or ask Siri to remind them to take medicines on time. Integrating Siri can add significant value to your user experience.
6. Video calls: Integration of video calls allows real-time communication between patients and doctors. With this feature, people living in suburbs or far-flung areas can get timely care without having to travel to a hospital.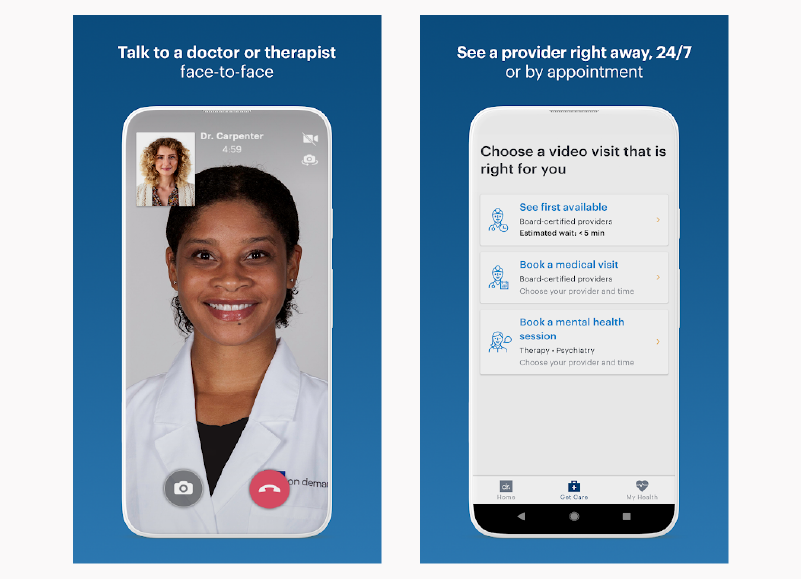 For instance, Doctor On Demand allows you to video call a doctor or therapist at your convenience. After the consultation, your prescription will be uploaded to the app itself.
In case you want to build an app like Doctor On Demand, feel free to discuss.
7. Online chat: With this feature, you can give users an option to communicate with healthcare professionals who will be available to offer valuable consultations. The chat feature is a great solution for both patients and doctors. While patients can easily send their questions or files required for consultation, doctors can address their issues and upload prescriptions.
Nowadays there are several apps that are used within the hospital to connect patients with doctors or nurses. They help to provide quick care to patients and enable them to notify the staff of their needs through simple texts or voice commands.
8. Geo-location-based search: Adding a geo-location search functionality enables patients to look for doctors and clinics in their areas. You can make use of Apple Map functionality to add the location-based search feature to your healthcare mobile application.
9. Doctor's ratings and reviews: Doctor's ratings and reviews will help users decide whether it's worth contacting a particular doctor or not. For your healthcare app, you will have to ensure that you have a good lot of genuine ratings and reviews for your partnered doctors.
Patients only click on those doctors' profiles who have a good set of ratings and reviews backing them. So, in case they find profiles with no ratings and reviews, chances are that they won't interact with those doctors and ultimately with the app as a whole.
10. Payment gateway: Adding payment gateways to your app will allow users to easily pay for the doctor's services and consultation. Offering payment gateways such as Stripe and Paypal make paying bills simple for users and collecting payments easy for healthcare professionals.
11. Reminders and notifications: You can add notification and reminder features to keep users up-to-date on their prescriptions and medicine intake. These notifications can be not only time-based but also location-based.
12. Personal coaching: This feature helps you provide a personal coach for your app users to help them achieve their fitness goals. A personal coach can help you with your exercises and nutrition.
How Much Does It Cost to Develop a Healthcare App?
The final cost of wellness and health mobile application creation is dependent on the number of features, and capabilities it is going to offer.
Before discussing the cost, let us also take a look at the team requirement. For healthcare mobile app development, you need:
Front End Developer
Back End Developer
DevOps
Business Analyst
Compliance Expert
UI/UX Expert
Project Manager
Quality Assurance
Our healthcare mobile apps for patients, create services specifically curated to help you get the best results from the product.
There are three types of development services you can hire for creating a mobile healthcare app.
Hire an in-house team
Freelancers
Outsource
Among these options, an in-house team will provide a quality product but may cost a fortune.
Therefore, when you are starting, it is not cost-effective to hire and maintain an in-house team. It might charge $100 to $200 per hour.
The second option is hiring freelancers from across the globe. That's another excellent option that will save you money.
However, with freelancers developing your application, quality is not a guarantee. So, what's the best route to take for developing a medical application?
It is by hiring an outsourcing agency.
The average price is $40 per hour for application development in the healthcare domain here.
You cannot get an exact price estimate for developing the medical app. It will largely depend on what platform you choose; Android or iOS. According to the tech experts, the price usually starts from $30,000 and it can exceed up to $70,000.
The cost of the iOS medical app is lower in comparison to Android. You must, however, consult a proficient app development company that would provide better details in this regard!
Conclusion
The medical science has advanced by leaps and bounds and the healthcare industry is increasing further establishing its foot on the highest level. Mobile apps have, in fact, brought a speedy acceleration ever since they got connected with medical science to make the lives of the patients simpler to offer them best-in-class services.
Today people don't have to wait to consult a doctor because nobody dares and wants to take a second chance. If you want an all-exclusive medical app, then contact us to have further discussions!