Enterprises always look out for the latest technology trends to stay ahead of the competition and mobile application development is not an exception. Nevertheless, the use of enterprise mobile applications against the download rate is always debated by experts.
To provide clarity, in this post, I have provided information about the growth and future of mobile application development despite a decline in downloads. Also, I have shared 5 mobile app development trends for 2022, which many may find useful.
Let's get started with enterprise mobile app downloads vs. use statistics.
According to a Comscore report, a majority of users (51%) still don't download any apps in a month and the trend is set to continue.
So, does that mean the growth of mobile applications is declining? Certainly not! However, the way mobile apps are consumed varies across enterprises has changed.
Well, the sections below will help both the enterprises, mobile, digital transformation services, and web application development companies. Here are the 5 app development trends to look for in 2022.
A prime reason why mobile apps are widely leveraged is that they can integrate with advanced technologies like AI, IoT, ML, Cloud, etc. So, mobile applications are here to stay for at least the next few years.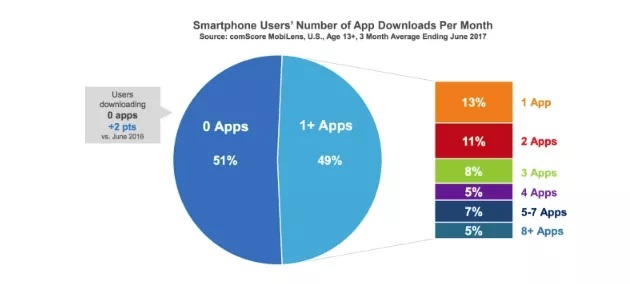 Enterprise mobile app development trends that will dominate in 2022
IoT the future of mobile app development
Internet of things is growing at a breakneck pace as they provide control over humans and equipment. The extension of IoT data with mobile apps empowers users with real-time data of humans and equipment on the go, only to improve process efficiency.
IoT applications have already started to impact enterprises and top brands have started to invest in the technology revolution to provide a seamless connected environment to users.
As per Satista, Internet of Things (IoT) connected devices installed base worldwide from 2015 to 2025 (in billions)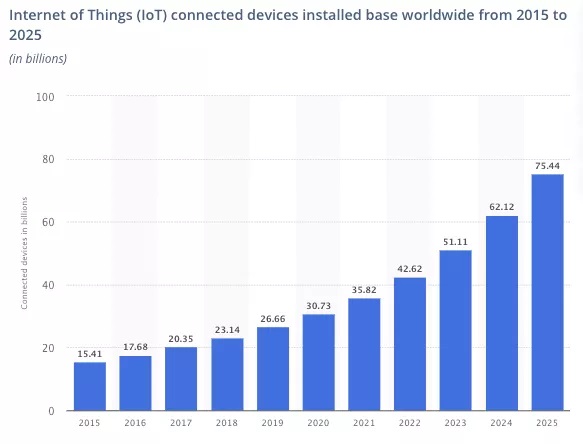 Role of Artificial Intelligence in mobile app development
The introduction of Artificial Intelligence into the technology space has dramatically transformed the way most businesses function.
AI-powered apps are widely used by enterprises to create a smarter user experience with fewer resources, leading to exploding productivity growth and improved cost savings. Besides, the customers are sensing better in-depth and personalized mobile experiences like never before.
Shared below is an interesting report from Statista on how smartphone users will be benefited from using AI.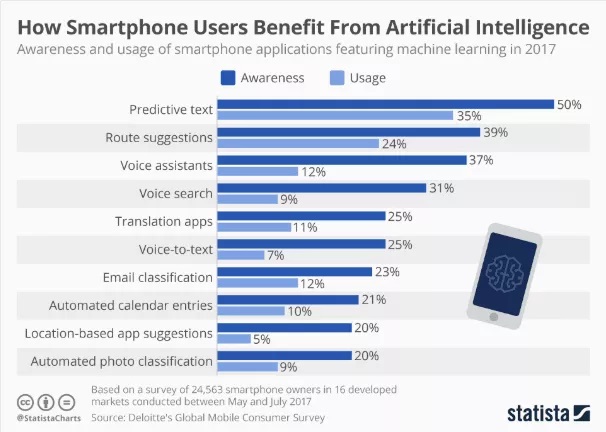 Influence of wearable technology on mobile app development
Enterprises focus on apps (thanks to custom software development) that connect with wearable gadgets to deliver information in new ways. This will transform the large range of products and services in different industry spaces like sports, fitness, fashion, hobbies, and healthcare.
Connecting wearable devices with smartphones impacts the future generation of mobile application development strategies and will pave the way to new waves of applications that will inspire and improve user experience staggeringly.
As per Grand View Research, the global wearable technology market size was valued at over USD 18 billion in 2014, owing to rapid adoption worldwide. Increasing consumer awareness and a rising technically sound population is also anticipated to drive demand over the forecast period.
As per Grand View Research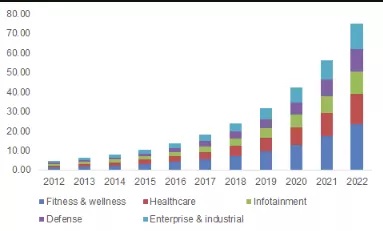 Add a chatbot to your next mobile app
Chatbots combined with mobile apps are creating ripples in the enterprise arena as a combination of both helps enterprises garner a large volume of user data to create a personalized approach towards users for delivering a seamless experience.
Here are some interesting use cases of chatbots for enterprises.
Use cases of chatbots for enterprises.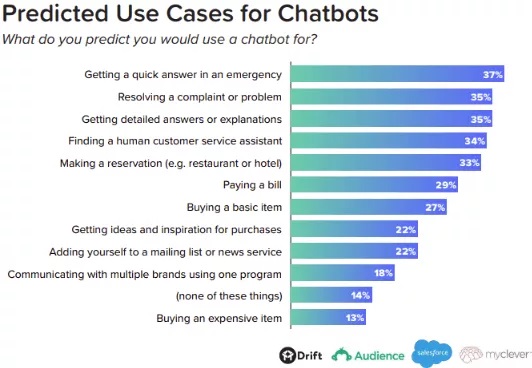 Benefits of Cloud backend for mobile apps development
The surge in enterprise mobile applications will contribute to challenging storage space. And, cloud storage is the best option available to overcome this challenge.
Moreover, Cloud services will make data accumulation seamless for your business. Besides, security measures and management will become simple and easier. In addition to consumers, cloud-based companies will make increased profits in this industry space.
According to a report, Cloud app development market size will surge to 101.3 billion USD in 2022.
Cloud-based applications market size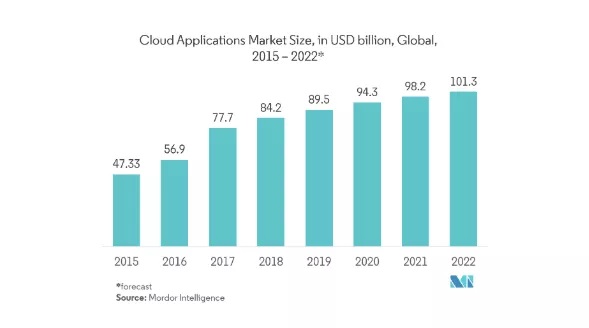 Conclusion
Enterprise mobile app development is taking a different direction and this necessitates the significance of partnering with the right enterprise mobility service that aligns with business goals and present technology evolution.
Are you looking for enterprise mobility solutions to improve employee and customer engagement? Let's talk.