So following a popular trend is the new trend! The digital world is taking over the rest. It's no more another popular myth that, any business can be out of 'the business' if it's not on the internet and soon can be out of the market if it's not there as a mobile application.
Businesses are growing digitally like never before! Some are even smarter to initially start with mobile application only. Location-based apps are winning the game with a clean swap. Yelp was the innovator in location-aware apps. It popularized the idea of "checking in" to locations through the mobile devices. Yelp isn't in the hands of business owners; it's in the hands of the people. The company's motto 'Real people, real reviews' worked phenomenally!
Is location-based app an icing for your business? Pondering with thoughts like "whether your business should be involved in the mix or not?" If yes, then you've just landed in the right place.

Let's Understand Geo-Location Based Apps Briefly.
The uniqueness to identify a customer's location breaks apparently infinite marketing, sales, and business opportunities. Geo-location based apps are the next loved-limit in the world of mobile technology. They have shaken-up every industry like online retail, travel, hospitality, healthcare and what not, by altering the way companies interact with customers.
Made for both personal mobile smartphones as well as for end-to-end IT solutions to fit into business' internal software networks. All location-based services' applications offer users 'real-time' information, about things they might find interesting around their immediate surroundings.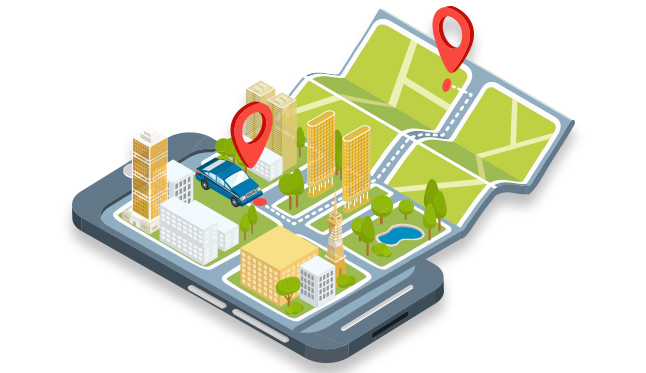 Quick Reasons to Count on Location-Based Apps.
This feature is boosting the growth of the businesses at even a faster rate. We understand that to count on something to move ahead with your business is a very crucial decision. However, we can be of a little help here. Following are the significant benefits:
•Increases visibility by digitally indexing physical location of your business including products, services and another point of interests.
•'Contextual awareness' helps you find more precise customers through intelligent notifications to the users.
•Location detector and other contextual triggers connect you with on-the-go consumers.
•Geofencing facilitates you to understand how many users are loyal to your brand and with your competition. You can use this data to divert users doing business with competitors with win-back campaigns.
•Can lead to increased repeat business to a great extent.
•Brand awareness increases.
•'Real-time location' for easy directions to your location.

Find Opportunities To Grow Your Business.
So the matter of fact is customer's location empowers 'retailers' to deliver the right message to the right person at the right time.
Let's take one of the hottest development made few years down the line, 'Apple's location-sensing iBeacon technology' which revolutionized the retail industry to a great extent. iBeacon sensors can recognize if the customer (who has downloaded an Apple store app) has walked in, say, a department store and sends special offers to a smartphone or guide the customer to a specific item, among other available possibilities.
Uber came into action with the idea of location-based apps, and created a revolution in the travel industry, by providing a much-needed solution! So innovations find their way, you just need to find the area of opportunities with uniqueness being the main ingredient. You can boost your business growth through several marketing strategies as well, for example, creating personalized offers based on a customer's location time and previous buying patterns, and a lot more you can do!
Every industry is growing with such apps, whether it be IT, travel, food, healthcare, social media platforms and the list goes on and on. So wouldn't you like to offer wings named location-based apps to your business?