Fast paced life, more options, lack of time to dine-out are some of the factors driving the on-demand food industry today. The food delivery industry in USA is worth $22,000 million and predicted to double in revenue by 2022.
Apart from tying up with popular food delivering services such as UberEats, restaurant and food joint owners can also opt to get an app developed especially for their F&B business. With a lot of time and cost involved, does it make sense to build a food delivery app for your business? We break it down in simple terms.
Pros of Food Delivery Apps
More Visibility through Digital Exposure
Whether you are extremely loved local bakery or a well-known franchise chain, delivery apps guarantee more exposure. This can be particularly suitable for smaller restaurants which may be popular in a small area but has geographical barriers in a large country as USA. A food delivery app development company in New Jersey will give more people access to your awesome food and thus improve the exposure for many smaller eating places.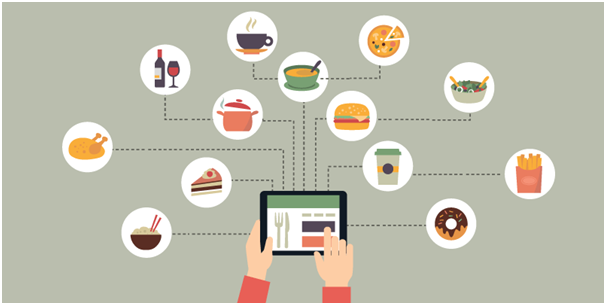 When Online, No Time is 'Downtime'
A great advantage of having an on-demand mobile app for your business is the ability to reach potential customers at any time. Even though online order may contribute less than 10% (global average is said to be 4%) it is crucial to note that unlike restaurants, apps do not have a 'downtime'. When it comes to dining in a restaurant, the traditional timings of a breakfast, lunch and dinner have more or less remained the same. With a mobile application, a restaurant owner can still get many orders between 3–5pm which has often been identified as a time with low foot presence in restaurants.
Cons of Food Delivery Apps
Less Control over Delivery Service
While preparing the food is entirely in the hands of the restaurant, delivering the food may not always be in the hands of the restaurant owner. Once the mobile application is developed, the owner has two options:
A) Hire delivery persons or B) Hire a delivery service such as Deliveroo.
In both the cases, there can be instances where delivery can face problems. This is often due to unavoidable circumstances but it can reflect very badly on the restaurant itself.
Unfeasible Delivery Commissions
If the restaurant owner decides to hire a delivery service then there is an added headache of paying hefty commissions to the company. These companies often have a bond with different restaurants and thus getting hold of a dependable service which does not eat up in the restaurant's profit is rare. Some of the bigger companies such as UberEats are said to charge as high as 35%.
Two minute take: Every restaurant should digitize itself by building an on-demand food delivery app for the business.