Since 2011, we have been dedicated to providing custom based software solutions to any and all of our clients. We listen to each individual problem or task a company has, and then use our highly experienced team to solve it in the most efficient manner possible.
We pride ourselves on our ability to adapt to any situation we are faced with. The flexibility of our services is what sets us apart from our competitors.
Our CEO, Anish Desai, said: "Being ranked as a top mobile app development company in Philadelphia by Clutch makes particularly happy because it is a well reputed community of industry experts that recognize well performing app development corporations. With a healthy clientele and firm market presence we now aim to integrate latest technology in app development!"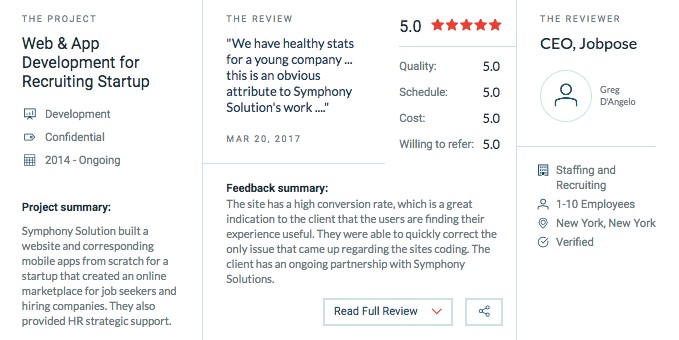 Because of our continued hard work throughout the years, we have been featured as a top Philadelphia app development company in 2018 by Clutch.co! Clutch is a ratings and reviews firm in Washington D.C. that provides rankings to firms all around the world. How do they accomplish this, you may ask? Part of their methodology includes conducting interviews with clients and using an objective scoring system that's based on factors such as industry recognition and market presence.
We are honored by this award and will strive to move forward and become an even more reliable and successful company. If you have any mobile app or web development requirement, please feel free to contact us, our sales team will get back to you.