Location based service providing businesses have gained traction in the past few years. With the technology at its peak, business owners wanting to develop a mobile app like Uber always have a lingering question of how much the app will cost.
Today, we breakdown the main stages and the cost of involved in making a location based app like Uber.
Basic Features for Passengers
Signup/Log in: Ability to integrate social media/email and other sign up and log in options.
Booking UI: Designing screens to search and book cabs by entering the pick-up and drop location.
Cab Fare calculator: Customer will get an estimate of the cost of their cab ride when the pick-up and drop locations are entered.
Tracking: Real-time tracking of the cab to see and change before or during the cab ride has started.
Payment Integration: Create invoice with an easy 3rd party integration for different payment options such as cash, credit cards and digital wallets.
Push Notification: Send the customer updates such as cab arrival, licence plate, estimated time to the location etc.
Apart from these features, added elements such as ratings, in-app calling, checking previous invoices etc. are also helpful and important to a location based Uber like mobile app.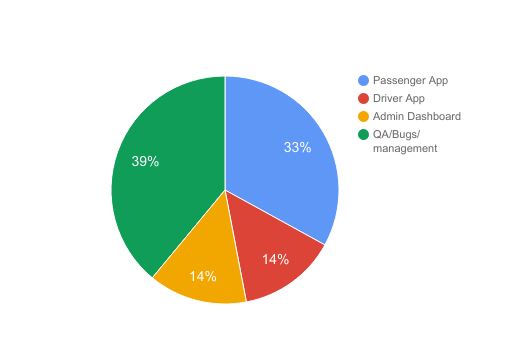 Basic Features for Drivers
Register Feature: Basic feature to get a driver registered after document verification.
Booking Options: Ability to accept or reject an incoming cab ride, display customer details, pick-up and drop locations.
Navigation: Integrate 3rd party GPS navigation API such as Google Maps with directions to help reach destination easily.
Push Notifications: Notifications for incoming cab rides, updates on ongoing cab rides and start/end ride options.
The driver and the admin will also need additional back-end assistance through an admin panel or a dashboard to check all the details and ride/business history.
Technology Proficiency
GPS Mapping, Server and Payment Integration are the 3 pillar technologies behind building a successful Uber like location based mobile application.
Back-end Infrastructure: By using languages such as Java, Python etc. the developers will build a strong core tech to be linked to the interfaces of passenger and drivers app. This feature will need at least 150 hours of work.
Design/Development: This stage will need at least 250 hours of work on the User Interface, User Experience and the different 3rd party API integration for navigation, payments etc.
How much Does Uber like Mobile App cost?
One cannot tell the exact cost of the app but depending on where the development company is based, the cost will vary. An average range of cost per hour can be between $30-$40/hour.
One of the crucial aspects of being a owner of a business which is driven by a mobile app, is how well-developed is it! Business owners should finalize an app development company which has the body of work to showcase the expertise! Thus, as a owner, you have to reach out to top location based mobile app developer like Symphony Solution which has a proven track record in the industry! If you are looking to develop a Uber like app, discuss your project by emailing us at sales@symphony-solution.com today!